Feature
Our Software is a Quick
Solution for all Types of POD Users




LazyMerch is the best Print on Demand upload system on the market. We support most platforms and stand out for the exceptional amount of individual configurations you can undertake with our software.
With LazyMerch you can customise your designs for each product individually. Anything you can adjust on the platforms themselves, you can adjust much more effortlessly with LazyMerch.
The creation of the Excel files is very simple and very self-explanatory. Should you need help, our detailed help guide will help you immediately. If you need further help, our support is available almost around the clock.
Mac users we hear you! Due to the high demand we now offer LazyMerch for Mac in addition to Windows.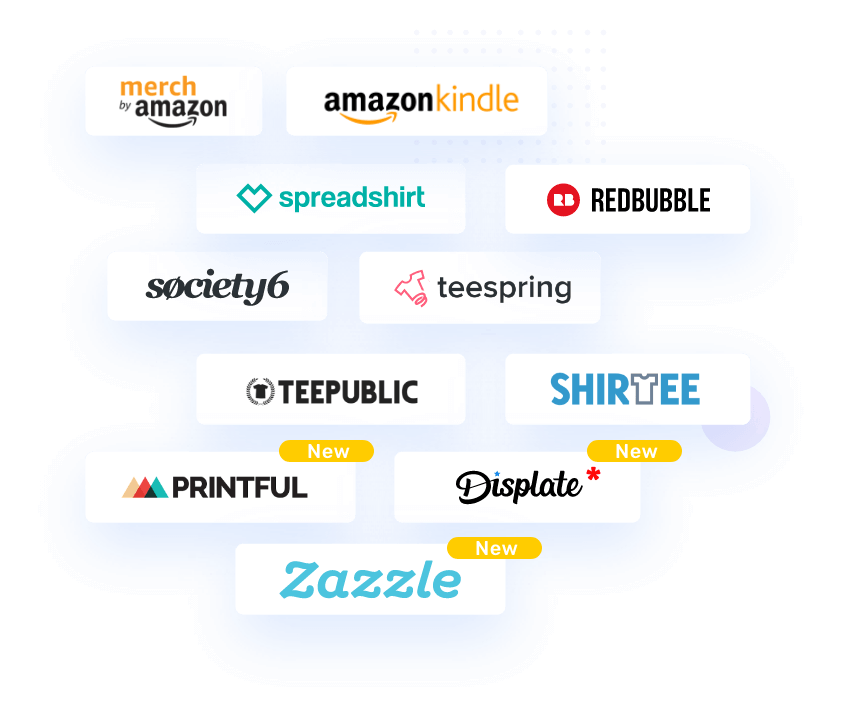 We already support the top platforms you need to start your print on demand business. However, we are constantly working on adding even more platforms. You can already automatically upload to Merch by Amazon (MBA), Kindle Direct Publishing (KDP), Spreadshirt, Teepublic, Society6, Teespring, Displate, RedBubble, Shirtee, Zazzle and Printful.
Which platforms should we add next? Do you have a suggestion? Then why don't you get in touch with us!

Our professional customer service is always happy to support you via live chat, e-mail, Discord and even by phone.
We offer the automatic adaptation of your designs for all respective providers… We can also turn your PNG design into a book cover on request!
Super simple to install and work with. We offer you detailed guidaince throughout your LazyMerch experience.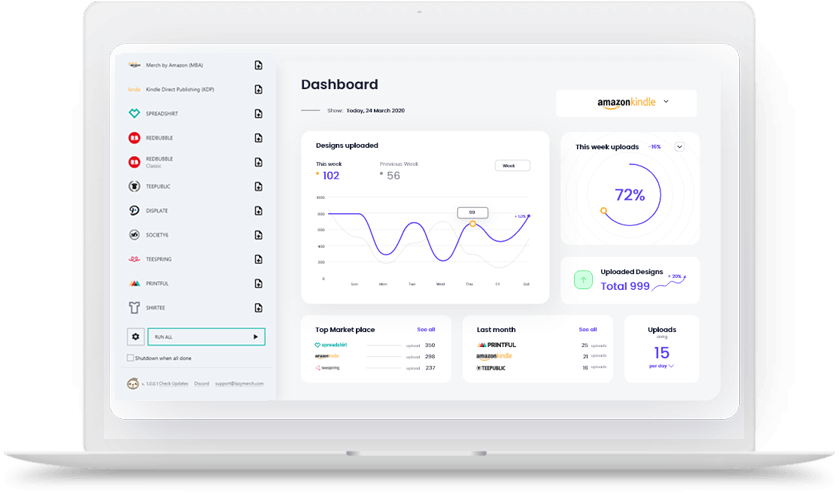 Automatic Translation
We don't think you speak every language but with us you can sell your designs worldwide. We translate your uploads for you on demand with the best automatic translations available on the market.
Use the Power of Excel
The best solution for managing data is Excel. With Excel you can comfortably manage your data and upload it to LazyMerch at the same time. But don't worry! You don't need to be an Excel expert. The files are kept very simple. YOu can also use Google Sheets, OpenOffice Calc or any other spreadsheet programme.
The tool makes the upload process much easier. I am very satisfied with the tool and can recommend it to everyone. The support is also very good.
For the price, there is nothing better available. It saves a lot of time and the Support is great! No matter if for Print on Demand (T-Shirts) or Notebooks, I have only heard positive about it so far.
LazyMerch makes it easy for me to upload to any Print on Demand site. It's just a wonderful tool that's always up to date with incredibly good and fast support. For the current price, according to my opinion, the best tool currently available on the market. I can only recommend it to anyone.
Simply a must or every Shirt seller! For a small price you receive an extremely time saving tool and the costs are made up for super quickly! I can only reccommend LazyMerch! The Support is also as fast as lightning and very helpful.