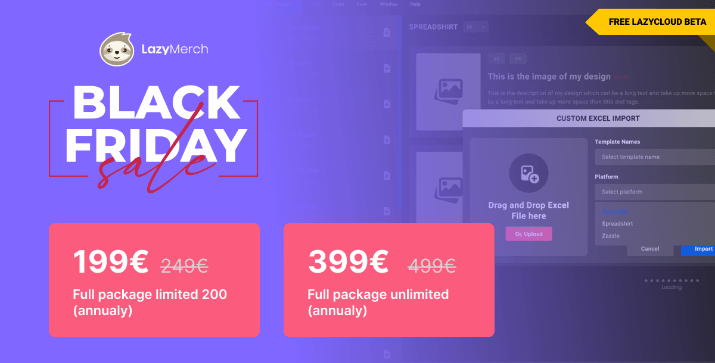 Black Friday Deal 2022
EDIT: The offer is now online. Click here.
Also this year we have a Black Friday deal for you at LazyMerch. This time there is again a generous discount on the Unlimited annual package and the Limited 200 annual package.
From 25.11.2022 0:01 (CET) until 01.12.2022 you can take advantage of the deal. The following discounts are available:
Unlimited Package Annualy (unlimited upload to all platforms) – 399€ 499€.
Limited Package 200 Annualy (200 uploads per month to all platforms) – 199€ 249€.
Why it's worth subscribing to LazyMerch right now:
To make a long story short (tl;dr)… Our cloud project can be used completely free of charge until further notice. So you get two extremely comprehensive products with many great features for the price of one.
Our cloud is currently in beta phase and is being tested intensively. With the Cloud you get a perfect synergy between a design management tool and the automation tool.
No more tables if you don't want them. Nicer user interface for entering listings and synchronization between Automation Tool and Cloud at the push of a button. This gives you full control over everything that is already uploaded or needs to be uploaded to a platform.
For 2023 we are planning many more great features that you will be able to test continuously. Every Automation Tool subscriber will be able to use the cloud without any restrictions and enjoy all the benefits without having to sign up for another subscription in the near future.
We would love to have you join us and continue to develop the Automation Tool and LazyCloud in the coming year.