LazyCloud is coming soon…
Dear Lazy Community,
as probably many of you have noticed, we have been very cautious with announcements lately. One of the reasons for this is that we have been working on many big things for you for a little over a year now.
One of these things – and by far the most time-consuming project of the past months – is what we want to tell you about today.
With the end of the year at the latest, we are happy to be able to provide you with our LazyCloud. It won't only be a design management tool but will facilitate your whole workflow from writing listings to co-working with designers & VAs.
Here are some features you can look forward to:
Overview
In the usual LazyMerch manner you can display tons of data about your designs in a table. You can customize your own tabular representation of the designs. Whether it's the date of an upload, the listing of your preferred platform, or a breakdown of which MBA marketplaces your design was published on.
Designs can be sent directly from your overview to an upload queue
Designs can be selected and dragged back into your workspace to edit the listing
Designs that have already been uploaded but edited again are recognized as updated entries and trigger an update process in case of MBA. That means: your design + listing is already live, but you want to optimize the listing and change the title in the cloud…. No problem, the next time you start the LazyMerch Automation Tool, this design will be updated to MBA via update process.


Workspace
In the workspace you can upload designs and enter listings for them. We don't want to give you too many details here yet, as this will be by far one of the most innovative areas that will save you the most time in your daily workflow. What we can say though is:
You can write your listing for multiple designs of a niche from scratch within a few minutes
You can access and reuse existing listings in your cloud. For example, you could easily reassign listings from last year's Christmas designs to this year's Christmas designs and only have to make minimal adjustments, e.g. giving individual keywords or titles that are design specific.
You can create blueprints that you want to use for each listing regardless of the niche and easily populate them with your keywords. I.e. you can create cloze texts à la "This XXX theme is great for XXX and XXX enthusiasts" and then fill them with your keywords.
We made sure that you can fill an area in the workspace while writing your listings, which will not only make your work a lot easier, but should also be fundamental for future platforms to be filled with this data. I.e. LazyMerch adds a new platform to upload to in the future…. No problem! We will take the data from your existing listings and suggest them to you for the new platforms – of course you could edit them then.
The Trademark Check on your Workspace page will point out all potential hazards in your listing. Again, old note, new tune. We haven't reinvented the TM-Check, but we have found a way to make it more appealing and clearer for you.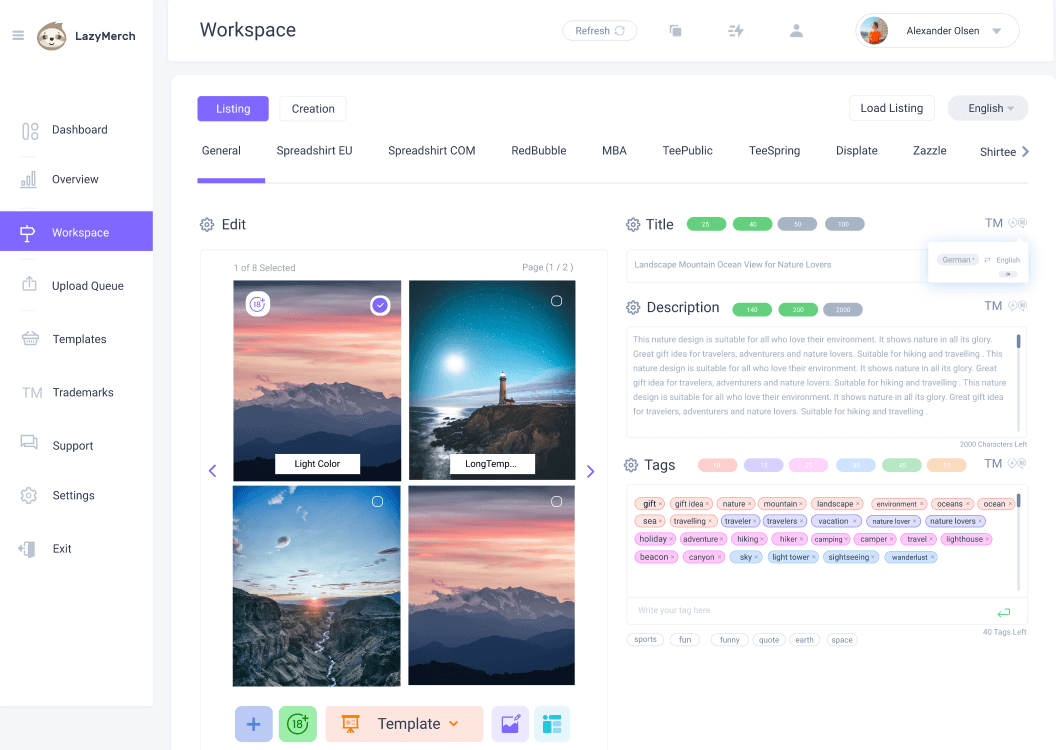 Trademark-Check
As mentioned in the last Workspace Features point, we have not reinvented the wheel. However, there is a separate page for Trademark Checks, which includes our new and clearer representation of TMs. Furthermore the following things will be possible:
Have any words and phrases checked per Nice classes or regions
Enter ASINs and check the listing behind them
Optionally put any results, no matter if from the TM site or from the workspace, on a tracking list, where you will get notifications if there is news about a trademark.
Existing listings in your cloud will be checked at regular intervals and you will be notified if there are new entries or changes regarding a word or phrase you used.
Upload
In the cloud, you can put designs in a queue. You can customize this queue to determine the order in which designs are uploaded.
The only thing you need to do is press a sync button in the LazyMerch Automation tool and your data will go from the queue to our upload application.
And the best comes at the end:
LazyCloud will remain free for now until we are at the point where we are satisfied with its development. This requires a lot of user feedback. We hope to get a lot of feedback and in return we will provide it to you for free for this period.
LazyMerch Automation can still be used without the cloud and run with Excel spreadsheets.
The foundations for a co-working space have already been laid. A few weeks after our beta release, the feature will be available so that your designers and VA's can deliver your designs or enter listings directly in the cloud.