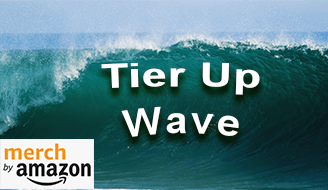 Tier Up at Merch By Amazon (MBA) – What to do now?
The t-shirt business or print on demand biz offers some interesting providers where you can offer your designs on merch items. Besides Spreadshirt, Redbubble, Teepublic or Society6, many designers might be familiar with MBA, Amazon's print on demand service. Amazon is the best-visited and highest-turnover online marketplace in the world and therefore also a must-have in the portfolio of every clothing seller.
However, MBA has already moved beyond clothing to offering products such as phone cases, popsockets, tote bags, and throw pillows for printing and sale. The products currently available on MBA and their design requirements can be found here.
Merch By Amazon is one of the most popular platforms to sell your designs and merch but there are some hurdles to overcome before you can really start selling.
Invitation
Amazon reserves the right to allow only selected sellers to participate in their merch program. You have to write an application in the beginning and convince MBA that you would add value to the marketplace. After a few weeks – if you are lucky – you will receive an invitation and can start uploading to MBA. However, many applicants have to make further attempts after rejected applications to finally get accepted.
Tier System
If someone is lucky enough to get an MBA account, they first have to deal with the fact that they can't upload an unlimited amount of designs. This is because Amazon has a tier system which is a kind of gamification model with level ups. This way Amazon prevents inexperienced uploaders from flooding the market with bad designs. You start in Tier 10, which is often abbreviated as T10 in the POD industry. In T10 you have 10 uploads at your disposal.
Amazon has not publicly defined when exactly one qualifies for advancement to the next tier and has handled this quite differently in the past. Currently, the rule of thumb is that you always have to have as many sales as the tier you are in and that at least 80% of the upload slots should be occupied. So you would have to have at least 8 designs uploaded and thus 10 sales to be promoted to T25. However, these are only empirical values from users within the POD community and guesses based on their tier ups. Amazon tends to promote their MBA users in Tier Up waves and has often promoted users in the past months who did not yet meet this rule of thumb. So never give up hope and wait for the next Tier Up Wave.
Guidelines and Quality
Amazon puts a lot of emphasis on uploads that meet their guidelines and have no quality defects. Trademark violations, content policy violations or copying designs already available on the marketplace can mean rejections, takedowns or even account terminations. So it is recommended to pay special attention to your Amazon account and not just provide mass scaled designs. The current content policies can be found here.
Tier Up at MBA – What to do now and how LazyMerch can help
As described above, there is the tier system, which makes bigger and bigger jumps in higher tiers. For example, if you are promoted from T1000 to T2000, you will have 1000 new slots to upload from one day to the next. You want to be prepared for that and not lose a day where you could fill the slots.
With LazyMerch you can continuously upload your designs and make them live or leave them in the draft. Especially uploading as a draft is helpful when you get a surprise tier-up and only have to put the drafts live. It is recommended to stay on the ball with LazyMerch and to be prepared for every Tier Up Wave.
We keep our fingers crossed for you that you will be able to enjoy a Tier Up as soon as possible!